It's been a while I started this list of map-related products that could be nice gifts, and I was like "who cares if it's not the Xmas season?"… Well, time has passed and it's only now that I'm able to publish this article, so here it is!
Are you looking for a gift for that dear one who loves map? Here are some examples of articles they could like!
For the globetrotters
Herb Lester guides
Each one of these travel guides is based on a map from a talented illustrator. With addresses to shop, rest, eat, drink and discover the city like a local, there is enough to spend a good city break! Some maps are devoted to a special topic (travel with kids in Paris, punk London, Manhattan bars), while others will settle for a broad selection of activities in a city. Europe, USA, Australia, Japan: the Herb Lester collection is growing!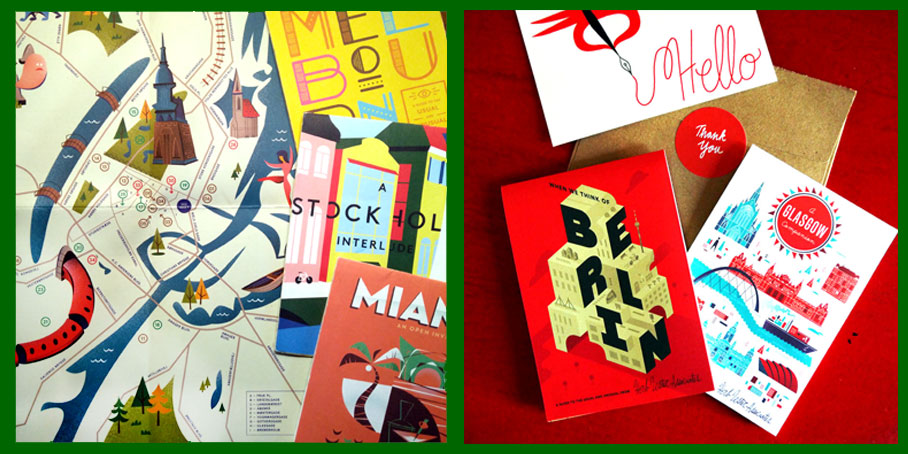 For those who have walls to decorate
Ork city posters
For both the typography and map or city lovers, Ork posters create maps where the name of a city's various areas blends with its geographical representation. Often monochromatic, the posters are quite graphical and will surely look very nice in a simple frame.
Cavallini & Co. papers
They are not strictly speaking specialising in maps, but Cavallini & co re-edits vintage maps on wrapping papers (and other materials), which turns out to make beautiful posters. World maps, country or city maps are available, depending on their collection. The maps are available for sale online, but you can often find it in gift stores in major cities.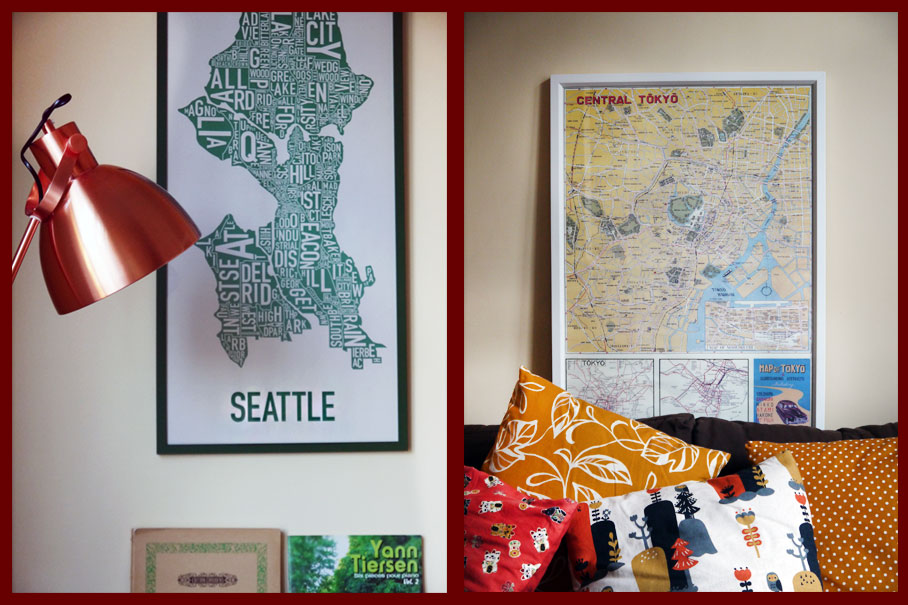 Scratch map
Ideal as a gift for someone who loves travelling and who's been to many places around the world. There are different versions of the scratch map but the most popular one is a world map where you scratch the countries you've visited, that would then appear as coloured. A bit on the showing-off side, but hey, who doesn't like to brag about their holidays?
Cork Board Map
A variation of the scratch map, but which leave more space to creativity. The cork board map is reproduced the earth map, in sticky cork board that you can fix on your wall. It comes with pins so you can show where you've been or pin photographs or other memories from your trips. I'd say it's even better than the scratch map! (But it requires a bigger wall.)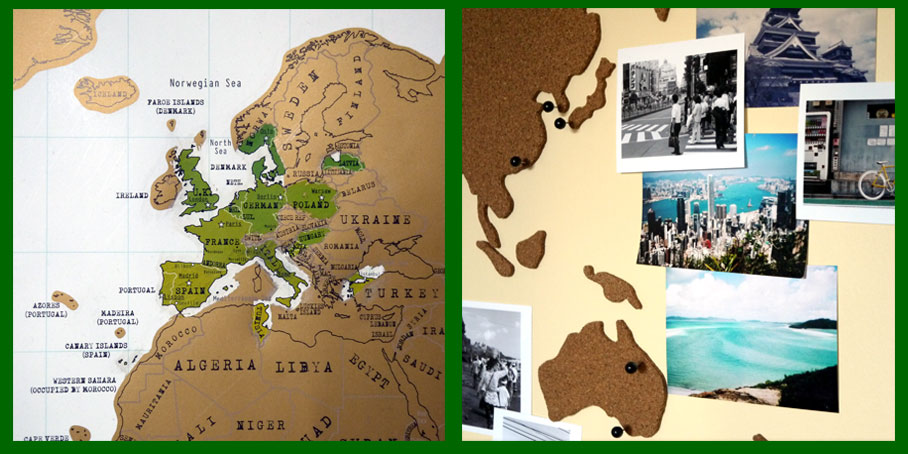 For the book lovers
This post isn't sponsored by Gestalten, I promise. I can't help it if they make tremendous books about maps. Like books showcasing examples of illustrators and how they draw great maps. Or books providing you with the tools to create your own digital maps. Or books going through some huge map projects, how they were born and carried out. All this in gorgeous coffee table books!
I particularly like A Map of the Wolrd and Mind the Map, as they both present great examples of maps, illustrators and map-making projects, with beautiful illustrations: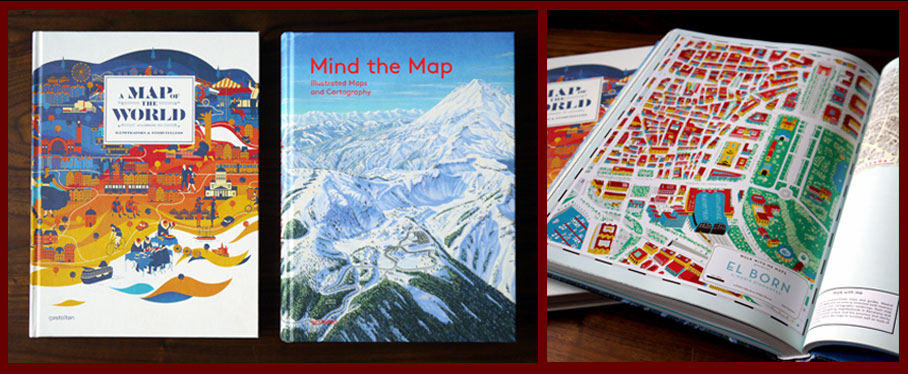 For the stationery lovers

Zero per zero maps and stationery
This Korean graphic design studio with a focus on city railway systems. They've reinvented the subways maps of major cities around the world and turned it into posters and many stationery articles (from postcards to travel managers).
Paperways notepad
Well, well… I've already talked about Paperways (one of my favourite brands), and I had to mention this particular piece from them. It's an A4 notepad, but what makes it special is its background, composed of a world map. If you daydream about your next holiday destination, you'll love it!
Typographical notebook
The Decomposition books are environmental-friendly notebooks made in the USA (from recycled paper, soy ink, etc.). One of them features a beautiful topographical map on its cover, made of raw board. It's getting harder to find but it in its regular size, but you'll easily find it in pocket size. Otherwise, you can try that famous brand starting with an A.
Carnet Grand Tour Paris
The main asset of the Grand Tour notebook is its cover: it depicts period maps of European cities. The one I got is the Paris map, reproduced from a 1950 map by Editions Blondel La Rougery, originally printed on cloth. The original map is today kept in Bertarelli archives in Milan. Another good point for this notebook is that is made of blank sheets (my favourite).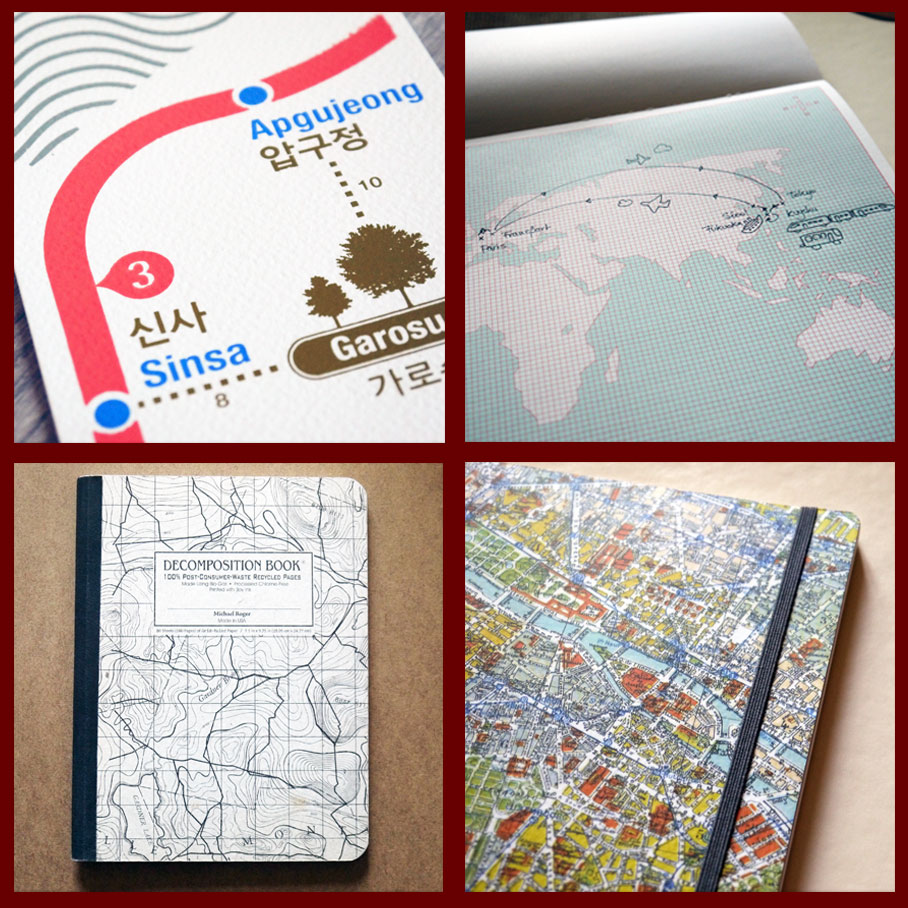 For the inner child in you
Giant Coloring roll by Omy
If you have kids (of your own, or in your life, that applies in any case involving a screaming child in fact), you might want to share your love of maps (and colouring) with them. Omy has thought about it all and provides you with huge and fun colouring maps of countries and cities, so you can spend hours trying not to have any felt pen marks on your hands while trying to figure out what's the name of that famous monument you can't remember.
Maps book by
This enchanting book will make you dream and travel thanks to its gorgeous and detailed maps. It takes you all around the world, at the discovery of local folklore, landmarks and wildlife. It's perfect for kids, big and small alike! The book is such a hit it's been edited in many languages from many publishers across the world (I first saw it in Japan I believe, and it's available in my local bookstore next door in Paris).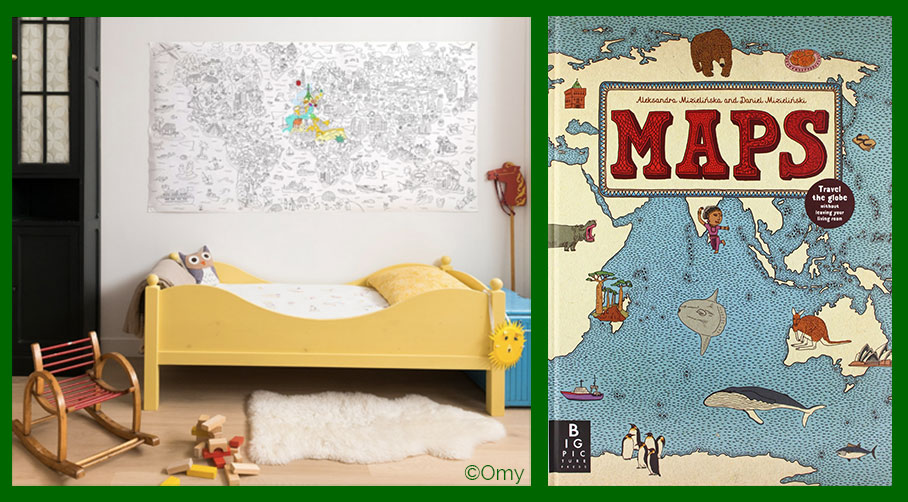 For the mapmakers (or mapmakers-to-be)
Map design
Another Gestalten book (oups, not my fault!), this time more practical. It provides you with a set of travel-related icons and base maps to draw you own digital maps. So you won't have any excuses like "I'm not a designer" to try having fun with map-making!
Transparent city
A good (and analog) way to keep track of your strolls or nice spots in a city. Transparent city comes with a background map on cardboard, on top of which you add some kind of transparent and sticky sheets to draw anything you want on it. 14 cities are available, and if you want to see bigger, a transparent world map is also available.
Map paper
A small notepad to draw maps (or anything you want, for that matter), with adjoining notes. To sketch your future map, to remember a good address or to help lost tourists in your city, a map lover will always find something to do with the Map paper!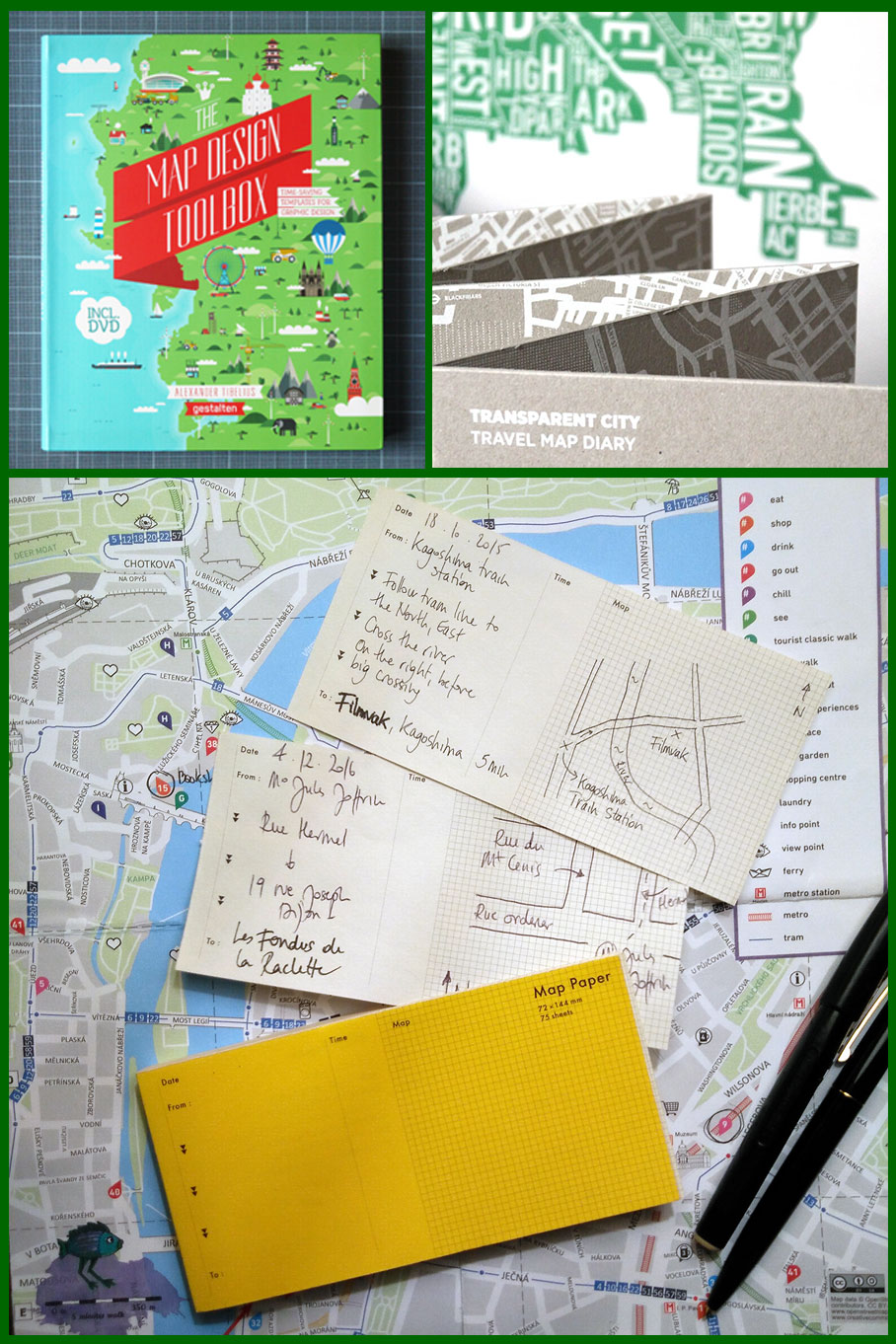 I hope you'll find what you need in this gift guide, and if you want to share with us other items that should be added, just let me know!