Whether you prefer A Clockwork Orange or Orange is the new black, well, it's all about orange stationery today!
In the last few months I've been surrounded by orange stationery. I made this selection to answer all your cravings for anything orange (but mostly stationery, books and maps!). It features some of my favourite stationery brands and publishers, so I hope you'll enjoy it as much as I do!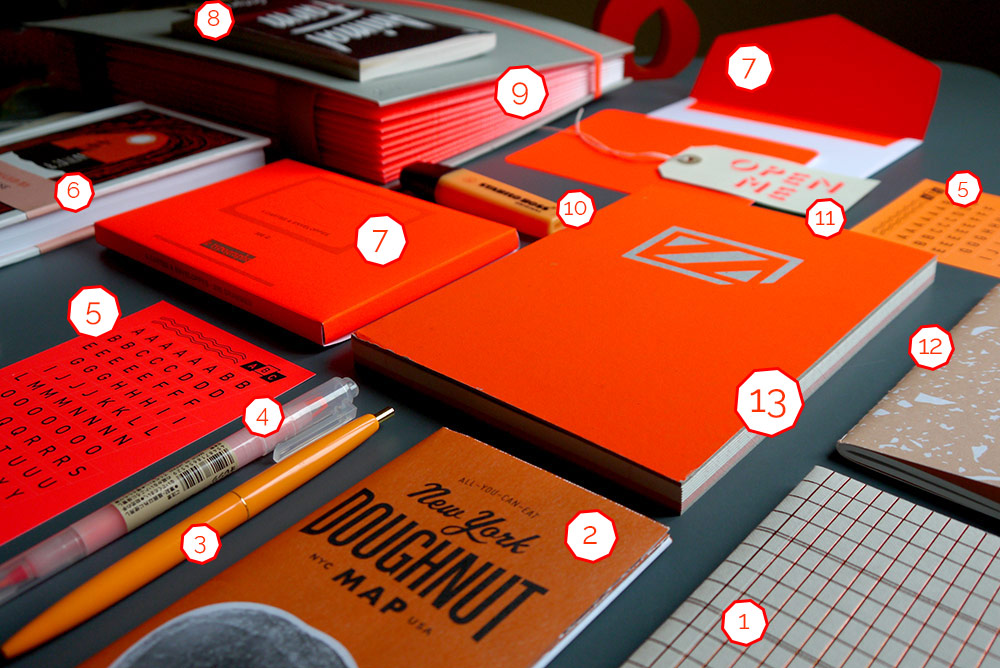 1. Chequered brass notebook – Ola Studio
Another lay-flat notebook from the British notebook editor, foil blocked in brass (or is it copper?).
2. New York Doughnut Map – All You Can Eat Press
Treat yourself with all kinds of doughnuts with this inventory of the best doughnut addresses in New York City! Yummy 🙂
3. Bic ball pen, Japan special edition – Bic Japan
The famous French ball pen brand sells a special edition only available in Japan. Available in a wide selection of colours, it's simple yet elegant (and cheap too!).
4. Double Highlighter – Muji
One of my favourite pen these days, this highlighter from Muji is very convenient with two different leads to vary your writing (rather, highlighting) style.
5. Alphabet stickers – Circus Boy Band
Small stickers with alphabet letters to leave your mark anywhere, from the Korean brand Circus Boy Band.
6. Treasure Island, Robert Louis Stevenson – Whites Book edition
I've already talked about Whites Book. I recently found another of their expired collection, a pocket edition of Treasure Island (which they also editing in clothbound hardback).
7. Fluo cards and envelops – Le Typographe
A beautiful set of very q