Whether you prefer A Clockwork Orange or Orange is the new black, well, it's all about orange stationery today!
In the last few months I've been surrounded by orange stationery. I made this selection to answer all your cravings for anything orange (but mostly stationery, books and maps!). It features some of my favourite stationery brands and publishers, so I hope you'll enjoy it as much as I do!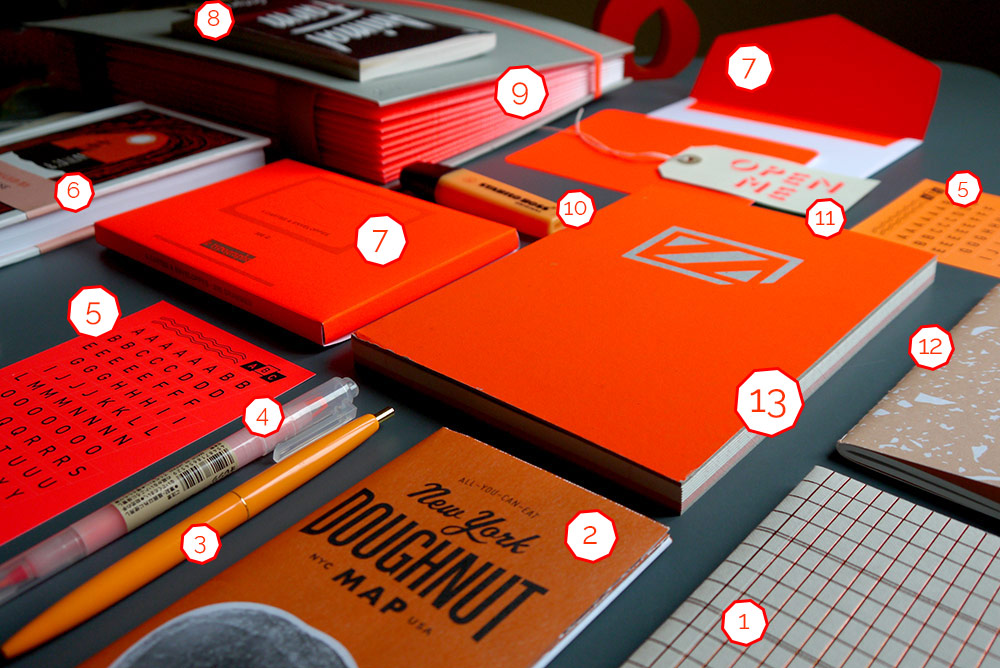 1. Chequered brass notebook – Ola Studio
Another lay-flat notebook from the British notebook editor, foil blocked in brass (or is it copper?).
2. New York Doughnut Map – All You Can Eat Press
Treat yourself with all kinds of doughnuts with this inventory of the best doughnut addresses in New York City! Yummy 🙂
3. Bic ball pen, Japan special edition – Bic Japan
The famous French ball pen brand sells a special edition only available in Japan. Available in a wide selection of colours, it's simple yet elegant (and cheap too!).
4. Double Highlighter – Muji
One of my favourite pen these days, this highlighter from Muji is very convenient with two different leads to vary your writing (rather, highlighting) style.
5. Alphabet stickers – Circus Boy Band
Small stickers with alphabet letters to leave your mark anywhere, from the Korean brand Circus Boy Band.
6. Treasure Island, Robert Louis Stevenson – Whites Book edition
I've already talked about Whites Book. I recently found another of their expired collection, a pocket edition of Treasure Island (which they also editing in clothbound hardback).
7. Fluo cards and envelops – Le Typographe
A beautiful set of very qualitative fluo cards to snail mail your friends. The cards are orange, the envelopes white with a matching orange inside. Handmade in Belgium with love.
8. Animal Farm, Penguin Modern classics edition
Another nice edition of George Orwell's dystopian novella from Penguin books, with an interesting typography on its cover!
9. Organizer – Hay
A grey and orange plissé organizer to keep all your paper in orders, with style!
10. A good old Stabilo highlighter 🙂
Let's not forget about the good old classics: you always need a Stabilo by your side!
11. "Open Me" gift tag – Marby and Elm
These letterpress gift tags are handmade in London by Marby and Elm, who specialises in letterpress pape products. Perfect to customize a lovely gift!
12. Mini notebook – Wrap Magazine
A small bright orange and marble-like notebook with copper foil from Wrap, the illustration magazine.
13. Daily Journal – Paperways
This notebook is best used as a daily journal as each page as a header where you can enter the date. Lined and with a section of orange pages at the end, it's another beauty from Paperways!
Here's a closer look at all this orange stationery: